The Laurels of DeKalb Staff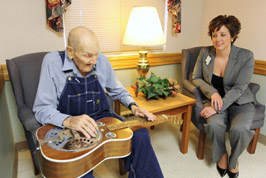 What differentiates one skilled nursing & rehabilitation center from another? The answer is... the people who work and reside there! The people set the tone, the atmosphere, and the expectations. At The Laurels of DeKalb, we take great pride in ensuring that everyone feels like part of our family, and that they are treated as special "guests" in our home.
The Laurels of DeKalb employs a team of highly qualified medical professionals, including a Medical Director, Registered Nurses, Restorative Care Nurses, a Wound Care Nurse, state tested Certified Nursing Assistants, Physical Therapists, Occupational Therapists, and a Speech Therapist. Our on-site Rehab, Dietary, Social Work, and Activities departments provide personalized and compassionate care to each guest. From the moment you walk through the front doors, the warmth and caring of the staff will begin to gain your trust and confidence, as they strive to exceed your expectations.
Unlike other facilities that use "contracted" staff members, each member of the team at The Laurels of DeKalb is directly employed, not "contracted". Each Team Member takes great pride in portraying "The Laurel Way of Caring", as they strive for excellence in providing only the highest standard of care and services to every guest, and to every family member and visitor. Come on in! Visit a while! Let us show you our very best... let us show you The Laurel Way.
Erin Tuttle, Administrator
Marleen Miller, Director of Nursing
Marleen Miller graduated from Indiana Purdue University of Fort Wayne with an Associate's Degree of Science and has been a nurse since 1996. She has spent the majority of her career in the long term care setting, becoming an employee of The Laurels of DeKalb in 2000. Marleen began her career at The Laurels as the Assistant Director of Nursing and then assumed the duties of both Assistant Director of Nursing and MDS Coordinator in 2003. In 2013 Marleen accepted the position of Director of Nursing.
Marleen lives in Hicksville, OH with her 2 sons and husband, Scott.
Emily Nelson, Director of Marketing
Emily joined The Laurels of DeKalb in July 2007 as the Director of Marketing. Emily is a community leader who enjoys educating the public and medical professionals about the services Laurels has to offer. She is a member and past president of the Auburn Classic Noon Lions Club and serves on the Board for DeKalb County Junior Achievement. Emily is a graduate of Tri-State University where she received a Bachelor's Degree in Business Management.
Renea Hamman, Rehabilitation Services Director
Renea graduated from the University of Findlay in 2002 with a Master's Degree in Occupational Therapy. She started her career in long-term care at The Laurels of DeKalb in 2002 as a full-time Occupational Therapist and advanced her career as the Rehabilitation Services Director in 2006. Her specialties are wheelchair positioning, home modification and low vision training. She is LSVT BIG Certified and recently received continued education in Myofasical Release techniques and has seen extraordinary benefits from inpatients as well as outpatient guests. She is a certified infant massage therapist and has taught community and private classes in DeKalb County teaching parents and caregivers techniques and benefits of infant massage. Renea also has certification from the National Arthritis Foundation as an instructor and teaches a community arthritis exercise and Tai Chi class at The Laurels of DeKalb.